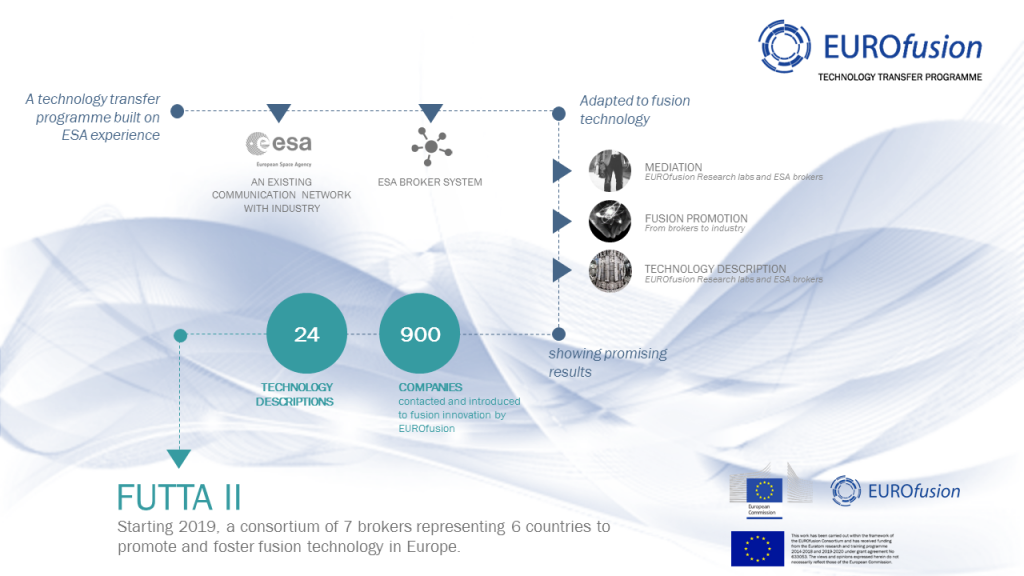 Fusion Technology Transfer Activities
EUROfusion launched in 2014 a Technology transfer project named "Fusion Technology Transfer Activity FUTTA" in collaboration with the European Space Agency (ESA) that brought its methodology and vision of technology transfer. As a pilot, FUTTA I involved a limited number of brokers. This first phase generated more than 20 fusion technology descriptions, up to 3 success stories and insights for the development of a broader EUROfusion Technology Transfer Programme.
EUROfusion has decided to implement a second phase of the FUTTA Project implying a wider broker network, demonstrator calls and new tools in order to go further in the dissemination and exploitation of EUROfusion beneficiaries' IPR towards industry. The extension of the network activities between FUTTA I and FUTTA II (with the implementation of brokers and local presence in other member states) shall reinforce the diversity of the network and open new challenges in order to raise the amount of technology transfer.
Our Consortium
In Extenso Innovation Croissance – Consortium leader and Broker France, technology transfer is its core business with strong relations with the National Network of Technology Transfer Offices in France (SATT, CURIE), the French Space Agency, ESA and the CEA Cadarache. Learn More.
RINA Consulting – Broker Italy: RINA Consulting MTI Group has both the technology transfer methodology capability as well as the nuclear technologies. As industrial partner of EUROfusion, RINA developed recycling techniques for DEMO and fusion power plant materials, worked in the design of the DEMO cooling system. Learn More.
cesah GmbH Centrum für Satellitennavigation Hessen and EurA AG – Brokers Germany:. Both companies have a substantial record of accomplishment of successful technology transfers from the space to the non-space domain. Both companies were already successfully active in FUTTAI. Learn More about cesah and EurA AG
RTC North – Broker UK: . RTC North employs over 20 full time technology transfer professionals and a patent lawyer and is a key member of the Enterprise Europe Network. To date, RTC North has brokered over 500 technology transfer, licensing and IP exploitation agreements and has been involved in the Nuclear AMRC Fit for Nuclear programme (F4N) . Learn More.
KIM – Broker Spain: The consortium will benefit from KIM experience in the following aspects: belonging to the ESA TT Broker Network, member of the Technology HUBS Network in Chile, a network of more than 200 investors, SMEs, administration and brokers worldwide and numerous technology transfer methodologies (IP portfolios assessments, open platform, knowledge maps). Learn More.
Verhaert – Broker Belgium: Verhaert (VPS) is the most important technology driven innovation and integrated product Development Company in Belgium. With almost 50yrs of experience in technology driven projects, in which about 20yrs of product development for ESA (Proba-series …) it has a proven experience in transferring technologies from space, research centers, universities and non-space to non-space. TT activities are driven by VPS TechXfer© methodology which is also successfully rolled out in the European Broker network. Learn More